---
Class descriptions
General Skills
Level: Beginner/Intermediate
This clinic is for both participants who are interested in learning how to play beach volleyball for the first time, or who have played before but never had coaching instruction in the mechanics of the game; as well as those who are interested in improving their overall offensive and defensive game. Clinic instruction may include: passing, how to properly bump-set and hand-set, over-hand serving, serve placement, targeted hitting, executing smart defensive plays including receiving a serve or hard-driven ball, receiving a kill or tip, and overall court positioning.
---
Instructor bios
Coach Lon Engel
Coach Engel has over 30 years of combined competitive volleyball and coaching experience. Coach Engel, as the Varsity and JV coach for the Boys' Latin School, has had his teams in Championships in 6 of his 8 years at Boys' Latin. Coach Engels' coaching training is through Gold Medal Squared and he is Impact Certified. In addition to Boys' Latin, he has coached both boys and girls teams for Time Out VBC, girls team for Baltimore Elite and assisted the boys U18 team last season for Yorktowne VBC. He has worked with the Bermuda National Volleyball Teams, Men's' and Boys', as well as Coaching the women's' team that won the Silver Medal at the 2013 Bermuda Open International Tournament. Coach Engel has played competitively in men's' indoor USAV/USVBA tournaments, as well as beach and grass doubles tournaments in the United States and Abroad.
Impact Certified, GM Squared

---
Coach Todd Webster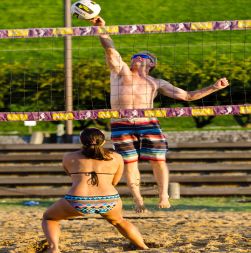 "T" has focused on the outdoor beach game with over 20yrs of competitive and coaching experience. In addition to formal training with Gold Medal Squared he's also trained with numerous pro beach tour players, including Jeff Nygaard, Beth Van Fleet, AL-B Hannemann, Brent Doble and Angie Ackers. He founded Baltimore Beach in 1999 initially for the pure fun of having the sport of beach volleyball in the inner city
,
and later committed the resources to make it a venue that has introduced the game to others as well hosted some of the best tournaments/players in the world.
---
Coach Mike Christ
Mike Christ started his volleyball career at Rio Mesa High School and went on to play for CSU Long Beach. He was assistant volleyball coach at Ventura College for 7 years and coach of the St. Bonaventure High School Varsity girls team for 5 years. He also competed in the Channel Islands Volleyball Club for 14 years. AA sand rating / AAA Grass Rating .
---
Coach Alicia Diehl
Alica Diehl has 16 years of combined competitive and coaching volleyball experience. She received First Team All-Conference honors playing libero at Johns Hopkins University, and earned a spot in the record books for digs per season. After graduating, she played on a USA Athletes International tour in Curaçao. Throughout her career, she has coached for Hanover Township Community Center, Columbia Volleyball Club, and Johns Hopkins summer training camps. Transitioning from indoor to beach in the past 7 years has brought her even further love and appreciation for the game.
Copyright © 1999 - 2018 Baltimore Beach Volleyball Club. All rights reserved
Revised: July 30, 2019