What's New
Ever wonder what a week at 'the Beach' looks like!
*Baltimore Beach time lapse video (3min)
Today

*OPEN*
@ 5:30pm for league play

Weather Line Phone: (443)708-8765
Beach Schedule
Free Play
Sat 10am-5pm
Sun 10am-4pm

Directions & Parking

Click image for parking info & directions to Baltimore Beach!
Weather

&

Radar

Baltimore Beach Outer Wear
Welcome!
Open to everyone, Baltimore Beach is seven (7) beach volleyball courts set on 2000+ tons of sand, located at Baltimore's Inner Harbor. A place where local, visitor, beginner to expert can meet and play organized games. We organize men's, women's, coed, 2's, 4's and 6's league play 7 nights a week and "Drop-In" play most weekend days from spring thru fall. Look under the "Beach Schedule" heading for specific times.
---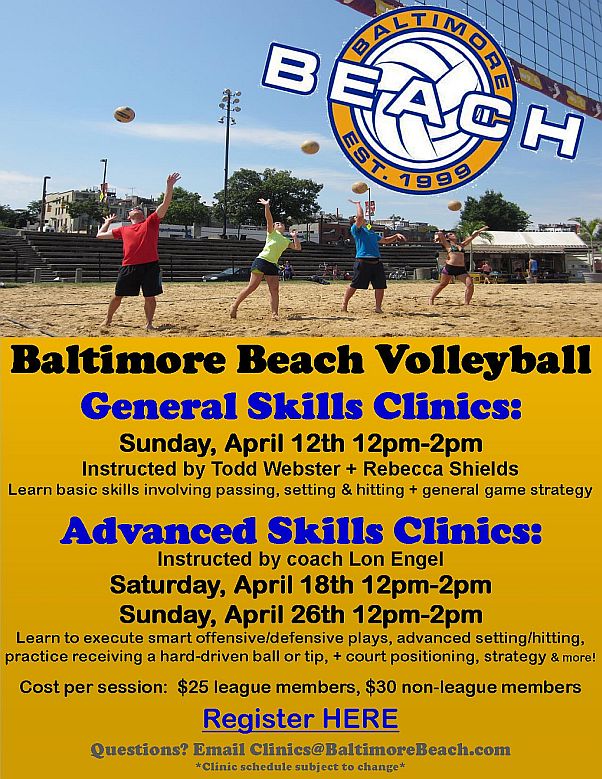 ---
Beach volleyball has been a staple of the Inner Harbor's Rash Field for the last 15 years, with league play for the last 13 years, but its future remains in the air as the city looks to implement the Inner Harbor 2.0 plan, which includes the redevelopment of Rash Field. The plan, which was released in November 2013 by Baltimore City, the Waterfront Partnership of Baltimore, and the Greater Baltimore Committee, would likely feature a first floor parking garage on Rash Field with a park built on top of it. The plan includes ideas for the redeveloped park, such as water and sculpture gardens, a barge pool, a public beach, a carousel, a children'' more...
---
This is an independent media poll posted by the Baltimore Business Journal, about keeping Baltimore Beach at the Inner Harbor. Please feel free to share
---
Baltimore Beach Online Store!
Baltimore Beach has an online store, thanks to CafePress.com. We are selling a number of products with our own unique logos on them. Click on the image to the left to go to the brand new Baltimore Beach Online Store!